My move to California
or
My little Odysee
On December 27. my girlfriend and I started our roadtrip to California. We had 2300 miles and 34 hours of drive in front of us, but I was really looking forward to it, always having Jana by my side.
The first day – next stop was Oklahoma City – passed by pretty fast. Jana was also covered by my insurance, thus we could split the driving time. One of us could drive, while the other one was sleeping or reading out of a funny book. Our first accommodation was a nice and clean place. Our host has studied German and quite interested in our life.
On the next day we had to drive 10 hours again. Next stop was Albuquerque. Everything was fine so far even though I was always complaining that the engine would sound differently than I was used to but I was the only one with this opinion and I am a little hypochondriac and sometimes think something's wrong even though everything's right. We therefore drove on and had a great time. Flat fields as far as you could see and temperatures about 60-70 degree Fahrenheit (16-21 degree Celsius) and a cool breeze. I felt like being on the North Sea beach in summer.
Anyway, we finally arrived in our next home for a night: a huge house on a hill with an amazing view over Albuquerque. We just paid about 35$ and could stay in a comfortable room with a king size bed, our own bathroom and using the kitchen. But the best part of our lodging were our hosts. Absolutely funny and nice couple. They were married guys. It didn't take long to find an interesting topic and having a funny conversation. One of them was a Hollywood location manager. He finds places to film movies, organizing the permission to film etc. for movies like "The Avengers" or "Sicario". As addicted as I am about movies and TV shows I couldn't stop to admire his enormous collection of about 5000 DVDs.
Our next stop was Flagstaff after about 5 hours drive. I had the feeling that something was wrong with my car but it was just a subtle feeling and we drove on. The landscape changed more and more to undulating fields with higher and higher mountains, covered by snow. Crazy to have breakfast wearing a t-shirt and dinner in snow clothes. We still had half of the day free after arriving in Flagstaff, so we decided to go to Sedona. We followed a beautiful road with several switchbacks surrounded by marvelous rock formations and deep valleys. We parked our car and went on by foot. And that's when the trouble began. First, we tried to find a cheap and delicious restaurant and went for over 2 hours without success. We finally decided to get some food in a grocery store totally starving and out of power. We were heading back to Flagstaff driving up the hills as I recognized that something was really wrong with my car and even Jana had to admit that it was weird that my car was strangely purring every time I was turning to the right. It was obvious: we couldn't drive on like this and had to find a mechanic – 2 days before New Year's Eve. But I was totally relaxed and knew that everything would be fine and didn't think at all how difficult it would be to find a mechanic, how expensive it could be to repair my car (considering my empty wallet) and how fatal it would be when we couldn't proceed our trip missing Jana's flight back to Germany and being delayed on my first work day in California. Totally exhausted we finally arrived in our accommodation: a beautiful and stylish apartment – a little fortune in our situation.
We had to postpone our trip to the Grand Canyon on the next day and got up really early to find a mechanic. We went to my car, I tried to unlock my car – but it didn't work. It was frozen. I tried to heat it up with hot water and after thousands of tries it finally opened. We found the first mechanic and I got a prompt respond: there is no way to find an appointment for me. Completely booked out. Great.
Next mechanic then: No problem! Yes!
We took a test drive and I found out that the mechanic's daughter was an exchange student for a year in Germany. Good sign!
The diagnosis for my car was fast and proficient: the wheel bearing (Radlager) was damaged. That would cost 370$! That was a lot of money in my situation considering that I had to have enough money to live a whole month before I would get my first salary.
Anyway, I admitted to repair it and Jana and I waited until we received a call half an hour later: everything was fine and ready to be picked up.
The mechanic had good news for us when we finally arrived. He had to use a different wheel bearing and I just had to pay 240$. After half an hour and only a little amount to pay, we could start our trip to the Grand canyon. Driving my car was completely different. So smooth and it doesn't get louder when driving faster than 40mph!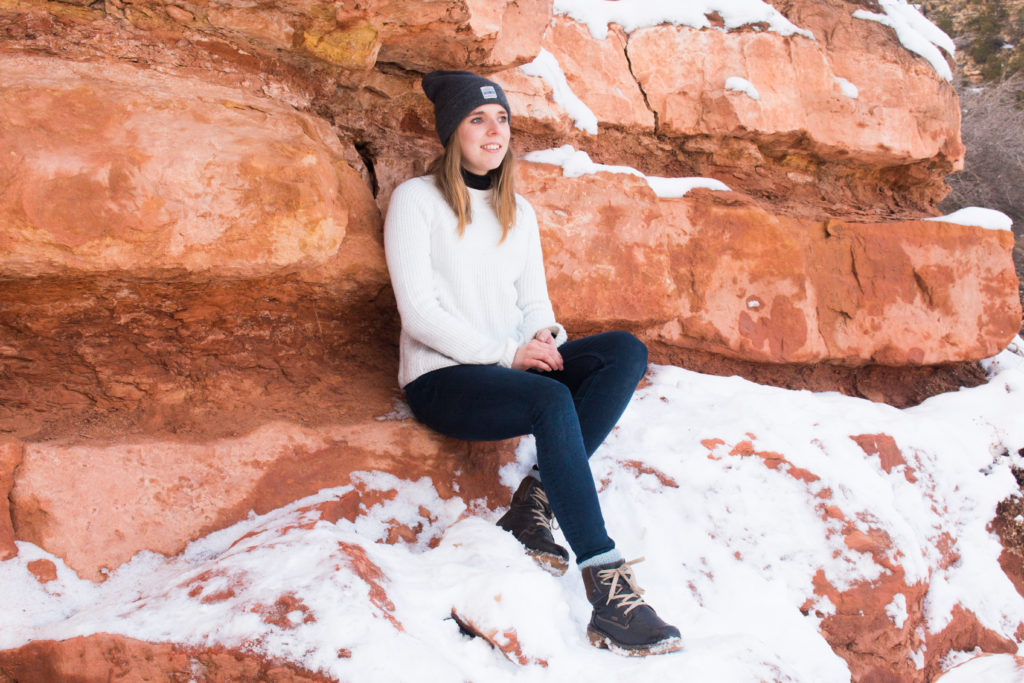 We enjoyed our day at the Grand Canyon Village and took some nice pictures. When the sun finally disappeared behind the mountains we decided to go back to my car – it also started to rain. We reached my car before we could really get wet. I tried to unlock the door – and it didn't work! It wasn't possible that the lock was frozen again, as it was raining and therefore warmer that freezing temperatures. We tried it for 20 minutes and all people passing us probably thought that we tried to steal this car. I kicked the door, hit it, insulted it, complimented it, but nothing worked. We were completely wet, when a guy asked us if we could need help. He offered us to call AAA (the American ADAC) to reach a mechanic. While he was calling, I tried to unlock it for the 1000th try and suddenly it worked. I don't know what I did, but everything's fine again and it didn't occur since then. And that was our last shock on our trip.
We went on with our trip and arrived in Las Vegas. We had no plan what to do and drove downtown without a clue where to park. Only a few meters in front of The String we turned to the right and saw a field with several parked cars. One of the employees there told us that this is the only parking area for free (instead of paying 40-80$ everywhere else!).
It was absolutely astonishing and an amazing atmosphere. Everything was shining and flashing in all colors. Great music, funny people and lots of attractions. I can totally recommend this place to celebrate NYE!
I brought Jana to the airport in the evening on the next day. After a sad goodbye I had to travel to my next stop between Las Vegas and Lodi. The rest of my trip was quite unspectacular and I arrived at my new accommodation: a little, gorgeous cottage with a kitchen, king size bed and bathroom in my Host`s Garden with an orange tree in front of it. Just for me!
But I will report of it in my next article!