My last days in Illinois
In this article I wanna write about my last experiences I made in Illinois before I moved to my second stop where I will live till end of June: California.
My girlfriend from Germany visited me about two weeks before Christmas. I couldn't wait for it and probably annoyed all people around me in this time because I had to tell everyone when she would arrive.
Anyway, I drove to Chicago to pick her up at the airport. It was theoretically a difficult time since she visited me in the final exam week. I was really worried about that before we finally booked the flight. On the one hand I wanted to achieve a good grade in my tests and therefore had to learn a lot. On the other hand I wanted to spend all the time with her. I finally found a solution for it and started to learn earlier and was well prepared.
But it wasn't actually necessary. I should have had to write three tests. In one course it was just possible to test separately and fortunately I was one of the first ones. Due to the high amount of students in this course the teacher decided to start with the final exam a week earlier. That means that I passed this test before the final exam week and before my girlfriend arrived. The second course was quite simple and mainly based on practical tasks. The theoretical test wasn't difficult and not necessary to learn for since the teacher prepared us very well for it. The last test was canceled due to the missing of the teacher. In the end I had enough time to spend with my girlfriend.
(This is what I learned in my classes: sharpening my own drill, big metal block: drilling a hole with my drill, drilling small holes, countersinking, tapping, reaming, milling a slot, grinding, milling the surface; cylinder: lathing; piece in front: plasma cutting. So amazing!!!)
We made a trip to Chicago again, visiting some attractions in the area, going out for dinner in the best restaurant I found during my time there ("Pangea" in Evansville, I can highly recommend that!!!!) and other interesting stuff.
We also spend Christmas together. Some of Dee`s friends invited us for Christmas Eve and let us experience the traditional celebration. It was absolutely amazing! We ate some great dishes first. They own 4 local restaurants and apparently are able to cook outstanding food.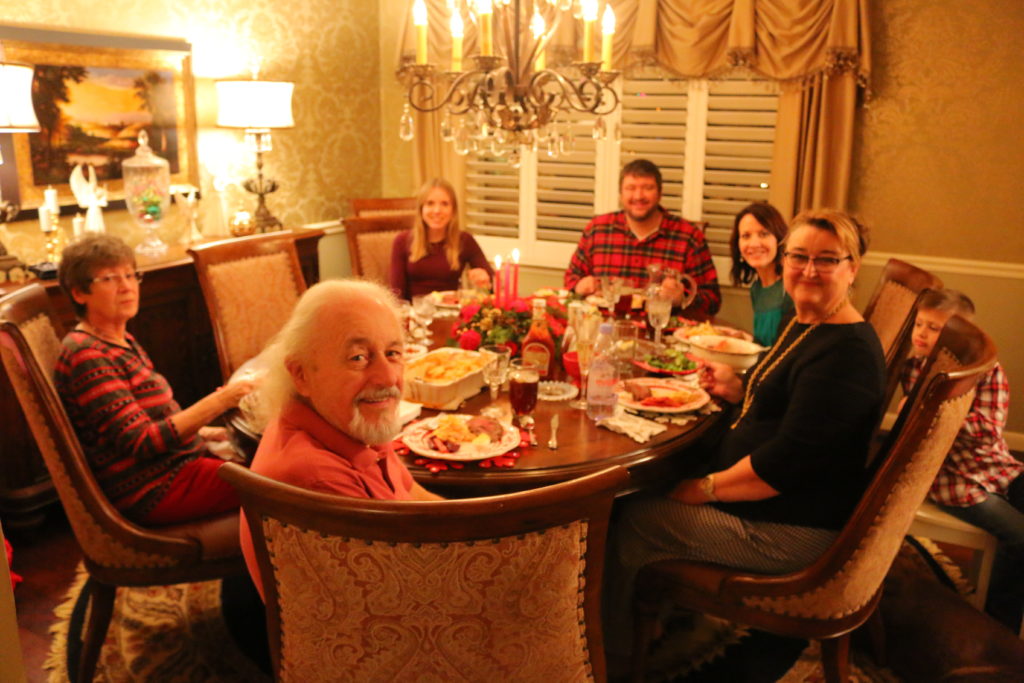 We participated how the family unwrapped their presents before we went home to give each others' presents between Dee, Jana and me. It was a really nice and merry evening.
We decided to invite two other international students on Christmas day and some friends invited us for lunch on December 26th. The main topic of these days were obviously food (and I really liked that!).
After five months living in Mt Carmel it was really difficult to say Goodbye. I met some great people and experienced very extraordinary things.
For instance Dee implemented a private tour for me through a local metal machining company due to her connections. It was absolutely astonishing and marvelous how big all the machines were. They had a big crane weighing 100 tons and able to lift 400 tons. I took some nice pictures you find attached.
One of Dee`s close friends is a retired pilot who gave us a private tour through the local airport. It included a simulated flight start on the runway (with the car) and showing all planes. It was really impressive and interesting to see how an airport is structured and works.
(That's the house where I lived for 5 months, cute isn't it??)
My girlfriend and I finally started our road trip to my location where I would live till end of June on December 27th: Lodi, California. I was expecting this trip with a tear in one eye and a smile in the other. I had a great time there and would miss my hostmum. It was a great pleasure to meet her and I do hope to stay in contact with her. On the other hand I was heading towards some further memorable experiences and I was really looking forward to it.
But this is another story…